Oh! I didn't know that. Another baby?
Yeah, it was announced in variety that she's expecting another baby. So, I'm allowed to say now that it's been a minute since we got drunk together. But I did see her recently, and I had some martinis.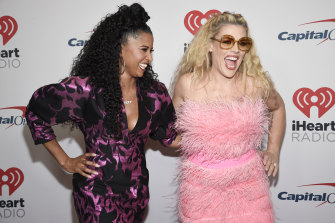 She might be the best celebrity-spotting moment I've ever had. It was probably like 20 years ago. I'm standing in the queue at this bookshop [Gertrude & Alice] in Bondi, and there's Michelle Williams standing right in front of me.
I'll tell you exactly how long ago that was, and it wasn't 20 years. It was 17 years ago.
Alright. How do you know that?
Because she was pregnant with Matilda and Heath [Ledger] was doing that movie candy and they were living there. And I went there, and that's the only time I have been to Australia. They were actually living in… Wait, so there's Bronte [note: she pronounced it Bront-ay, like we're that fancy] and Bondi?
Yes, they're pretty much next to each other.
Is Bronte, like, smaller?
Well, yeah. Bondi's the big, famous beach. Very popular. Bronte's quieter.
I think they were renting a house in Bondi. I would wake up every morning so jet-lagged and I would run that shoreline from Bondi to Bronte and back, listening to Arcade Fire. So good! That album [Funeral] had just come out, right? Neighborhood #1 or whatever.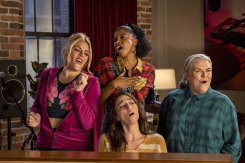 Totally. 2004.
I mean, Matilda's 16, going to be 17 in the fall, so that's exactly when it was. And actually, almost exactly this time of year 'cause they were back in the States by, like, June.
How long were you here with them?
Like 10 or 12 days. It was nice because Heath felt bad because he was working a ton on that movie and Michelle didn't really know anyone there, and so he flew me out to hang out with her. It was really sweet, we had a great time.
This is so great for me. I remember being in the queue of that bookshop just thinking, "Is it Michelle Williams? That's gotta be Michelle Williams." But all this time, I wasn't that sure.
One thing about my best friend is she does love a bookshop. That's where you'll find her.
I loved your late night talk show Busy Tonight. Why did you stop that?
Well, they told me I couldn't do it anymore (laughs).
Loading
Oh, a network decision. Spend too much on the alcohol budget?
I brought my own alcohol, Robert. No, but… I mean, actually, I kind of did. Cashier [St Onge; showrunner] and I would have loved to continue doing that show. We felt like it ended unceremoniously, like we'd been given no indication or warning that it was happening, so it really did feel out of left field. I wanted to create a different kind of late night talk show for different people. I do miss that show. I miss that time.
I read that you dated Colin Hanks for a while. Really?
For a while? For a long time! He was my college boyfriend.
What was it like to have Tom Hanks as a father-in-law?
Well, he wasn't because we were children. I was 18, in college. We went to college together, and we were in the play Noise Off together (laughs). And um, yeah, we dated. We were like college sweethearts, and then we both got our first TV shows. I got the pilot of freaks and geeks the same month he got the pilot of Roswell. Did you guys get Roswell in Australia?
Yeah, we got Roswell. I don't know who watched it, but…
In retrospect, it feels like a real dreamy time, you know? But, um, his family's great. And actually, we dated, I think, on and off for almost five years or something. Like, a long time. But, you know, we were really teenagers, we were kids.
Loading
So you'd go over to the Hanks household for, like, dinner and stuff?
Like, not to be weird and no disrespect because they're the best, but 19-year-olds are not super-hyped to be hanging with each other's families.
Tom Hanks, though. That's different.
It's still your dad! Like, my kid does not think I'm cool at all, and I am constantly saying, "Birdie, don't you know that all your friends wish that I was their mum?" It just doesn't land. Like, they actually don't care.
The new season of Girls5Eva is now streaming on Stan, which is owned by Nine, the owner of this masthead.